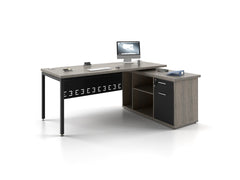 Home Office
Home office: first a nice benefit, now a necessity.
Sadly, gone are the days of the separate study and the big old Victorian desks. Today we're designing desks that are supposed to seamlessly fit into the main living spaces of small apartments and still look stylish – desks that don't really look like desks!
Shop Collection
Budget Saver
On a tight budget? Not all business have large budgets to buy top of the range office furniture, which is why we have created our range of budget desks.
Shop Collection